Skip to Content
Using a Virtual Address for Your Business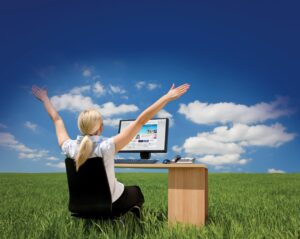 Using a virtual business address as the main address for your company can offer numerous benefits compared to using a home address or a P.O. Box. Similarly, a virtual business address can easily establish the image of a satellite office in a new area or test market. These options not only provide a more professional image but also enhance your business's functionality and credibility. Here are some of the key advantages:
Professional Image: A virtual business address lends an air of professionalism to your company. It conveys the impression that you have a physical presence in a prestigious location, even if your business operates primarily online or remotely. This can help instill trust and confidence in your customers, partners, and investors.
Privacy and Security: Using your home address may compromise your privacy and security. By opting for a virtual business address, you can keep your personal information separate from your business. This safeguards your home address and reduces the risk of unsolicited mail or visitors.
Credibility and Trust: A business with a physical address is often seen as more trustworthy and established than one with only a P.O. Box or home address. Clients and partners may be more inclined to do business with you if they perceive you as a reputable, established entity.
Mail Handling: Virtual business address services typically provide mail handling and forwarding options. This means you can receive business correspondence at a professional address, and the service can forward important documents to your preferred location. This ensures you never miss crucial communications.
Meeting Space: Have access to meeting rooms or co-working spaces in addition to the virtual address. This can be invaluable for holding client meetings, interviews, or team gatherings in a professional setting without the cost of maintaining a dedicated office.
Local Market Presence: Establishing satellite offices in different geographic locations can help you tap into local markets more effectively. It allows you to cater to specific regions or cities, demonstrating your commitment to serving diverse markets and potentially increasing your customer base.
Improved SEO and Local Search Ranking: A consistent physical address can improve your online presence. Search engines often prioritize businesses with legitimate physical addresses, which can help you rank higher in local search results. This can be especially beneficial for businesses with a local customer base.
Scalability and Flexibility: Virtual addresses offer flexibility and scalability. You can expand your presence in new locations as your business grows, all while maintaining a professional image.
Cost-Efficiency: Renting a virtual business address or a satellite office is often more cost-effective than leasing traditional office space. Many business startups choose to use a virtual business address until they are financially ready to move into a full-time office.
Using a virtual business address can significantly enhance your business's image, professionalism, and operational efficiency while preserving your privacy. These options provide a range of services that benefit businesses of all sizes, whether you're a startup, a small business, or a larger enterprise looking to expand your reach.
At Executive Office Link, our goal is to help your business succeed! Many of our tenants have started with a Virtual Business Address, and later moved into an office. The best part is that you keep the address after transitioning from a Virtual to Physical Office.
Let's discuss how we can help your business! Give us a call at 610-251-6850.